Self-Mastery. Nº19
Measure the gain, not the gap.
Welcome to Self-Mastery — a place of timeless ideas to help you become the architect of your mind and create yourself, starting from the inside.
---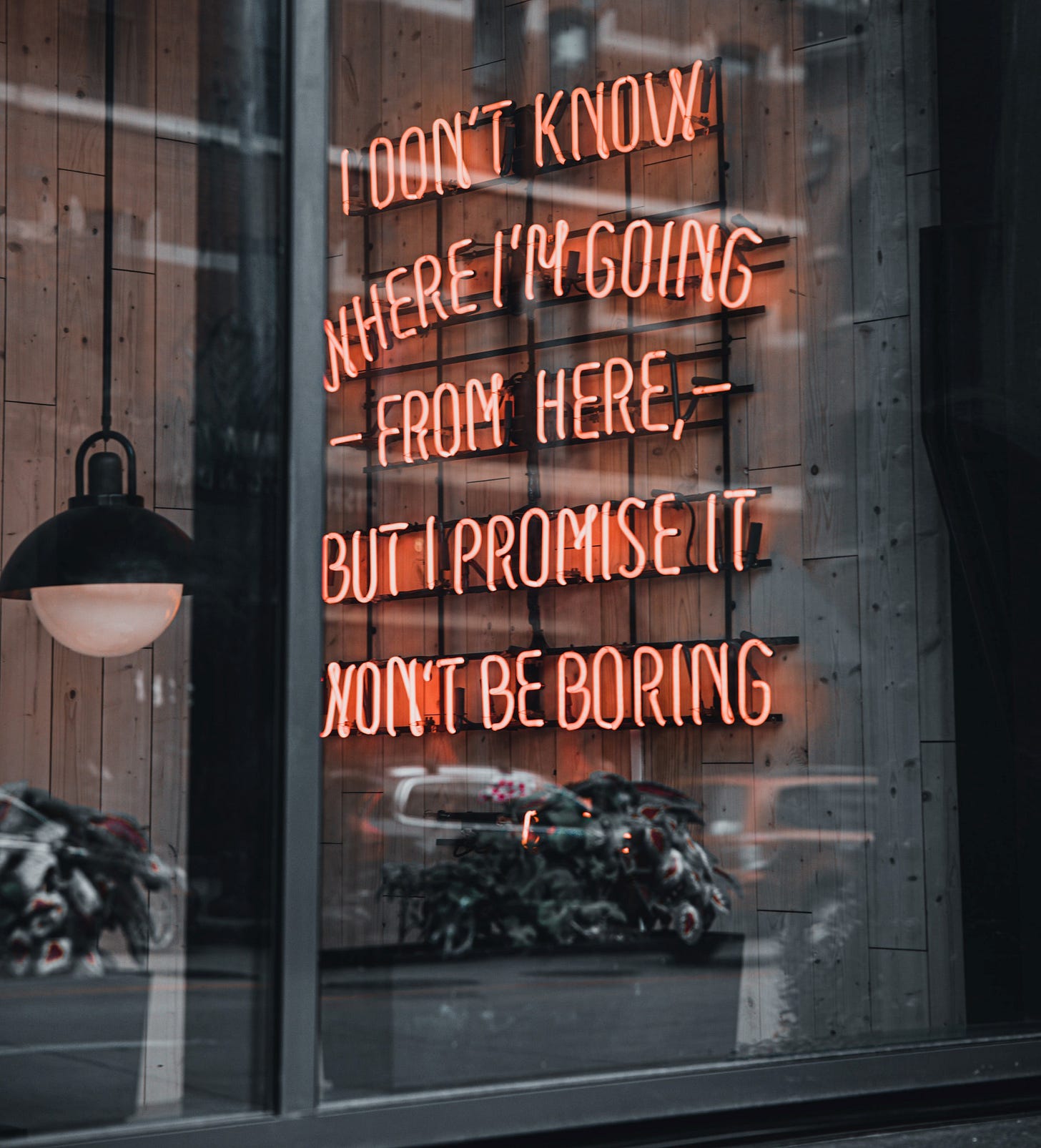 Read
Life before death. Strength before weakness. Journey before destination.

— Brandon Sanderson, The Way of Kings
We often find ourselves coupled with a negative relationship against goal-setting. There's quite a lot of emotional turmoil we experience with it, in fact.
And I've found it's because we typically fit into either of these two ideals:
We think we should be happy with ourselves, without goals, and leave it there.

Or, we always strive for more, never quite being fulfilled with what we achieved.
It brings the Pareto Principle to mind; just two approaches account for most people's way of thinking and moving. Both approaches, however, are ineffective and wrong. Neither side provides us with actual joy and happiness.
Without growth, we are unhappy. We're happiest when we're constantly improving. Self-acceptance is important, but it's intended as a driver for growth, not justification for stagnation and mediocrity. You can't be positive and have faith in a better future if you don't believe you can change.

If you are growing, but always measure yourself against who you want to be—your "ideal"—and not who you were, you'll never get there. You'll always feel unhappy with yourself because it will never be enough. Your ideal last year, or the year before, is not the same as who it is today. And it will keep changing.
Either persona robs our future selves of joy and happiness. When we don't learn to appreciate the journey, we lose the chance to develop happiness, gratitude, and confidence. And as those aren't experienced, we subconsciously lower our standards, setting weaker and less clear goals.
Quite simply: when you make time to self-reflect and measure how far you've come, you'll set clearer, better goals, because these goals will come from a place of confidence, enjoyment and happiness. It'll come from a place of tangible measurement, not abstract idealisation.
Society—the expectations of others—tend to measure success by whether you've reached the perfect outcome not. If you're an author, success depends on the number of books you've written or the number of copies sold. If you've been going to the gym for a year, your success to others depends on how well you look in their eyes, or the maximum weight you can lift.
This is all wrong. Success isn't about getting to the end of the journey, it's about starting the journey, and carrying on despite failure.
Dan Sullivan, the author of "The Gap and The Gain", says
Your future growth and progress are now based in your understanding about the difference between the two ways in which you can measure yourself against the ideal, which puts you in what I call "The Gap," and against your starting point, which puts you in "The Gain," appreaciating all that you've accomplished.


When you're in The Gap, you feel as though you haven't accomplished anything at all. This is because even though you've moved forward, the ideal remains distant from you…


But if you turn around and measure your progress against where you started, then you're in The Gain, and you'll experience a sense of having moved forward, of having achieved something, and you'll be motivated to continue on to your next stage of growth.
For many people, goals are about striving for the ideal: our conception of what's perfect. But "perfect" only exists in the imagination. To me, trying to be perfect is an excuse for slowing down.
For example, as a writer, I don't believe writer's block exists. It's an excuse for trying to create perfect work. When I start a piece, I don't care about the quality. I could write for hours, because quality comes later. The same goes for any of our goals.
We set ourselves targets, then we want them to start perfectly, because we're visualising the perfect outcome. This is us focusing on "The Gain".
When we measure ourselves against the gain, we're simply living in our dreams. We may struggle to see that we've surpassed the ideal we wanted to reach, but because we kept striving for more, we adapted to our reality, moving onto newer and bigger goals without realising, or appreciating, our path so far.
This is a magical process that we often overlook.
We reinterpret or reconstruct our memory in light of what our mindset is in the present. In this sense, it is more accurate to say the present causes the meaning of the past, than to say that the past causes the meaning of the present."

— Dr. Brent Slife
Your memory of the past is subjective. It's as good or bad as you want it to be. One day, you could say it was full of mistakes and bad luck. The next, you could realise that actually, it's shaped you for the better, and you wouldn't have the confidence or clarity in knowing yourself as well as you do now.
"The past is just as much fiction as the future. You're the one making it up." Says Dan Sullivan. The healthier we treat our mind, and the more flexible and appreciative we are about ourselves, and the more optimistic, and yet realistic our goals will become.
This is the path so self-creation: when we can accept and appreciate today's self, to move forward onto tomorrow's.
When life is measured by the gap, what you achieved doesn't matter to you. You'll always come up short. The present is negative, but also the past, because you regret and rue what you feel you've missed.
Every memory is connected to emotion. Negative memories create negative pasts, and a negative past is something you become a victim to. It becomes something you blame on everything around you as if you couldn't control it.
When life is measured by the gain, you focus on the elements of the past that are positive; you become capable of shifting everything into a positive. And therefore, you have a healthy and beneficial narrative of your life experiences. That power will propel you forward.
What's on My Mind
Expand Your Mind
Today's article is inspired by Benjamin Hardy, PhD., who wrote an article on understanding the disparity between successful and unsuccessful people. It's an insightful read. I recommend you check it out.
I also published a new article recently on meditation. I'd love it if you could give it a read, and see what you think.
Have a peaceful week,
— Jelani